One of the most anticipated tournaments of 2022 gets underway today in Kigali, Rwanda, the Kwibuka Tournament. Eight teams from three continents will take part, six from Africa and one each from Europe and South America.
It is the first time in the tournament's history that there are participating teams from outside Africa. It has all the feel of a mini World Cup for Associate teams. This event grown stronger over each of its seven years and one can only assume it will only gain in strength in the future.
The eight participating teams are: Rwanda, Botswana, Brazil, Germany, Kenya, Nigeria, Tanzania and Uganda. This will be the first time any of the African teams will have met Germany or Brazil. Indeed, the two of those teams have never met each other before. It is an enticing banquet of cricket ahead.
Excitement is the word. We are really looking forward to facing these new teams and gauge ourselves with them – Kenya's Sarah Bhakita
Uganda, Kenya (three each) and Tanzania (one) are the only teams to have held aloft the trophy and Kenya is the current title holder.
Looking at the ICC rankings the teams in order are Tanzania (18), Uganda (19), Kenya (24), Germany (25), Brazil (28), Rwanda (32), Nigeria (37) and Botswana (40).
One can use the rankings as a rough guide only. Every single one of these teams can win Kwibuka 2022. That's what makes this tournament so delicious.
Teams
Rwanda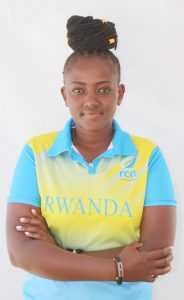 Led by their flamboyant captain Diane Bimenyimana, Rwanda's last campaign was a visit to Lagos where they won the NCF Invitational against hosts Nigeria. It was just the tournament to tune up the home team for Kwibuka.
Diane opens the batting with Sarah Uwera, also the team's wicket keeper and they form a steady partnership. At number three is the young dynamo Gisele Ishimwe. Just 17, Gisele already has a century to her name and is one of the most exciting batters on the continent. She can hit a ball! Some may remember Henriette Ishimwe from the FairBreak tournament. The young allrounder is a part of this top four who are really in good form at the moment and of course the FairBreak experience will have added value to Henriette.
Leg-break bowler Margueritte Vumiliya is such an exciting prospect. Her Player of the Match performance (4-17) in the final of the NCF invitation was a great showcase of her talent. She also has the ridiculous figures of 4-0. Watch this leggie in action. Sifa Ingabire is an off-break bowler who also performed with distinction at NCF.
Immaculee Muhawenimana would be the best pace bowler for the team. Her 29 wickets are second only to Margueritte (33) in all time highest for Rwanda.
Can Rwanda break their own duck and win this tournament? Certainly they are the sentimental favourite. Take no notice of their ICC ranking. This team is far better than that. They are most definitely a chance.
This year we are coming with a different approach on our game, the preparations we had have been good enough to see us getting positive results. We are well prepared in all departments, we will play each and every game as our last game. – Diane
Botswana
The lowest ICC ranked team in the tournament, surely at 40 they have no chance. Ah, wait a minute. This team is not 40th. Far from it, and now that seven of the players are contracted to play cricket for Botswana they will improve rapidly.
Led by captain and wicket keeper Laura Mophakedi, there's some very exciting players in this team. The skipper leads the way as the team's highest run scorer but Olebogeng Batisani is one to watch. Once she gets in she's very hard to remove, something Eswatini found out at Gaborone last year when she plundered 77, the highest ever score by a Botswana player.
Florence Samanyika is another who will provide consistent runs, while FairBreak participant Shameelah Mosweu has a strike rate of 103.00, the only player in the team in excess of 100. Handy that she is a left-hander too and her off-breaks are highly regarded. Her 6-3 against Mozambique at Gaborone in September 2021 is the best return by a bowler in the team.
One concerning omission is allrounder Botsogo Mpedi who has been a major part of the pace attack. That hole will need to be filled by Thandiwe Legabile and Tuelo Shadrack.
It is quite a challenge for the Botswana team, but don't be fooled by the ranking. Given the new professional status for seven of the players this team could upset quite a few others.
Brazil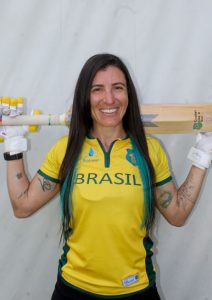 Already begun this tournament with a charm offensive, visiting local areas, distribution aid, planting trees and coaching youngsters. Brazil do public relations brilliantly and are a template for others to follow.
On the field you can expect this team to be one of the best fielding units, if not the best. The troops are brilliantly marshalled by captain Roberta Avery who leads the way at short cover. She is lethal in that position and indeed won the "fielder of the tournament" at the ICC World T20 Americas Qualifiers. For good measure, the wicket keeper, Evelyn de Sousa won best keeper at the same tournament. This team is a crack unit with fielding.
As if Brazil didn't have enough from that tournament, Laura Cardoso won bowler of the tournament. The right-arm pacer took 11 wickets at 4.54, including a hat trick. Also shining with the ball for Brazil was right-arm pacer Nicole Monteiro whose off-cutters were a real problem for opposition batters, taking 8 wickets at 5.87. Renata de Sousa is another handy pace bowler. Brazil have pace.
Off-break bowler Lara Moises is another to look out for. Uses flight very cleverly. Carolina Nascimento has yet to make her debut but word on the street in Pocos de Caldas is that she's a talented spin bowler.
My only question over the Brazil team is the batting. It was the one area where they struggled in Mexico but you can bet they've been working on that. The team has been bolstered by the return of Lindsay Boas (Mariano) who is also a wicket keeper, but it's likely her batting will be the main attribute.
Are they a contender? Will the trophy leave Africa and head to Brazil? There's a very good chance of it. This team will turn up to play every match, with big smiles and celebrations. A real possibility for them to win this.
Germany
The Golden Eagles are no strangers to playing away from home, having completed a series in Oman in early 2021, but Kigali is a long way from Frankfurt.
This is a very well drilled team that performs the basics better than anyone, particularly in the field. They are well led by captain Anuradha Doddaballapur, but have good off-field support with former German player Monika Loveday, along with coach Michael Thewli, while the team has also been around for quite some time and have formed a solid unit.
The team's strength is built around their batting. They score big and none more so than openers Tina Gough and Janet Ronalds. Ocassionally the batting line-up changes bu the best pair at the top are these two. Both have centuries to their name and Gough herself has scored over 500 international runs.
The captain often bats at three and with cameos from other batters in the middle order, Germany usually post high scores. Two wicket keepers in the team, Karthika Vijayaraghavan and Sharanya Sadarangani rarely get a hit, but can both bat. Karthika is fresh off a century in domestic cricket with the Frankfurt Furies.
With the ball Tina Gough uses her good height to great effect with her left-arm pace. This is backed up by a number of right-arm medium pace, notably Suzanne McAnanama-Brereton and Milena Beresford but in particular the captain herself who has a double-hat trick to her name.
I like the inclusion of Asmita Kohli, an off-break bowler who has a lovely action and a best of 3-8. Only three games under her belt, but look for her to play a bigger role for Germany in this tournament.
Built around big totals, tight bowling and sharp fielding, the Golden Eagles are a very good chance to take the trophy back to Germany.
Kenya
The current title holders of the Kwibuka tournament are keen to come and defend their title. Their most recent outing was at the Commonwealth Games Qualifiers in January where they wen 0/4 against Sri Lanka, Scotland, Bangladesh and Malaysia. They are a far better side than they displayed in that series.
Regular skipper Margaret Ngoche won't be touring but Kenya have a worthy replacement in Queentor Abel, the team's leading allrounder. Queentor is the leading run scorer and also the leading wicket taker. She's also a gun fielder at short cover. Margaret is a good skipper but I don't think Kenya miss out by having Queentor there.
The batting might be a bit thin without Margaret but Queentor's opening partner Veronica Abuga is dynamite and if those two get going Kenya don't need any other batters. They are as destructive as any opening pair in the competition.
Off-break bowler Sarah Bhakita bowled Kenya to this title in the grand final last year with a stunning performance of 6-16. She single-handedly destroyed Namibia. That followed her 5-12 against Botswana at the same event. She has a short run-up, bowls very slowly but with deadly flight. Says Sarah:
I believe we still have the capability to take the trophy back home. All I will be looking to do given the chance is ball the right spot consistently then the same results as last year will reoccur.
Can't Kenya retain their title? Sarah thinks so. One would be very foolish to write this team off.
Nigeria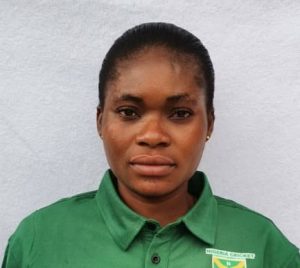 With Uganda, probably the most exciting pace attack in the tournament. Lillian Udeh set the NCF tournament alight with her right-arm fast medium. The fifteen year old from Ebonyi is a very exciting prospect. "Kid Dynamite" took a a hat trick against Ghana earlier this year.
The captain Blessing Etim is also a part of that pace attack with 25 wickets under her belt which includes a 4-0 against Cameroon at Gaborone in September. (Yes, that's right, there are two bowlers with 4-0 at this tournament.)
The pace just keeps coming with Miracle Imimole and Racheal Samson. Add into that mix the allrounder, Salome Sunday who is part of the next gen of Nigeria. The twenty year old from Uyo has a best of 3-20 but dominates the batting. She is second highest run scorer for the team after Blessing and has the top scores for Nigeria in T20Is. Salome strikes the ball hard. Watch her drives in particular.
It is a bowling attack centred around pace but keep an eye out for leg spinner Favour Eseigbe who performed well at the NCF tournament.
Can Nigeria go all the way? They were commanding the pitch earlier this year in their home tournament, only to go down to Rwanda in the final. If there's a weak area it's at the top of the batting order so that will need to be fixed, but the team is far better than their 37 ranking and have as good a chance as any. My spies in Lagos tell me to watch out for exciting youngster, Sarah Etim. Perhaps she will bring it home for Nigeria.
Tanzania
Tanzania are the highest ranked team at this event the winners of Kwibuka in 2019. We haven't seen them playing international cricket for nine months but quality doesn't evaporate overnight and they have not been defeated by any other team playing this tournament.
Captain Fatuma Kibasu is, simply put, a run machine. Look at these numbers: 570 runs at 51.81 with a strike rate of 124.45. Fatuma is one of only a few people to have score two centuries in T20 Internationals. That she opens the batting and scores at such a strike rate should send shivers down the spine of opening bowlers. That she spent very little time batting in FairBreak is a puzzle.
Mwanaidi Swedy stirkes a little better than the captain at 161.01. In fact many of their batters strike at over 100.00. It is a core strength of this team.
Perice Kamunya will lead the pace attack with vice captain Nasra Saidi. Both are experienced campaigners and have excellent records. Nasra has a 5-0 which pips the two 4-0's on this page! Tabu Saidi Omary is another to keep an eye on.
Can Tanzania win again? So much talent on offer with this team but there are quite a few new faces, while Fatuma is a new skipper. They are certainly capable of winning their second title.
Uganda
One of the best bowling line-ups on show in this tournament, giving captain Consy Aweko so much variety to work with. The Victoria Pearls are a red hot chance here if they can get their batting organised.
The team is fresh from a 3-0 victory over Nepal, away, and it was their battery of fast bowlers that caused the Nepalese batters real difficulty. If that wasn't enough, Consy's off-breaks and Sarah Akiteng's left-arm slow can cause real headaches.
Pace ace Evelyn Anyipo extracted great bounce in Nepal and she will trouble teams with the new ball, getting the ball to rise off a good length. The seventeen year old Phiona Kulume is a wonderful addition to this team. Tall and fast, a perfect partner for Anyipo. Her 6-11 against Namibia in Windhoek in April are the best figures by a Ugandan bowler. She can swing a bat too.
The talk of the town for the last two tournaments for Uganda has been the rise, and rise, of allrounder Janet Mbabazi. The tall fast bowler is currently the team's most effective batter and fielder. She is the full package and may win her third Player of the Tournament in succession here too.
Biggest concern with this team is the batting. They are slow to get moving at the top and can burn up a lot of deliveries. What that does is put pressure on the players down the order. The team will be keen to see Rita Musamali find some form. She's due for runs, Uganda's leading run scorer, perhaps now is the time.
A crafty bowler and captain, Consy Akweko could lead this team to a record fourth title. Get that batting right and they'll go close.
Main Photo: Rwanda Cricket