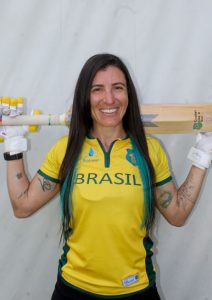 Born on 9th July 1985 in Pocos de Caldas, Minas Gerais, is the captain of the Brazil T20 International team, Roberta Moretti Avery.
Since Brazil was awarded T20I status in July 2018, Roberta has led the team in all matches played by the nation. Along the way she has guided the team to victory in the 2018 and 2019 South American Women's Cricket Championships and second place in the  ICC Americas World T20 Qualifiers in Mexico in November 2021.
Roberta is a passionate cricketer. She is of the view that cricket being a new game in the country has wide margin for female players.
"Cricket is not a predominantly male sport here. We don't have centuries of history with only men playing. So cricket is a game for all and we are developing it this way! Our women participation is very good."
When we speak of pioneers in the game, names like Margaret Peden, Rachael Heyhoe Flint come to mind. In every sense of the meaning, Roberta is also a pioneer in the game with Brazil Cricket awarding central contracts to the female players while the men are yet to achieve the same.
"Success for me is do what you love, feel good in the process of chasing it and achieving the results from the work you put into it."
(Photo: Cricket Brasil)