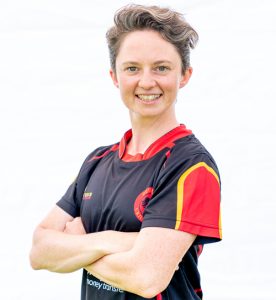 Janet Ronalds, born in Warragul, Victoria in Australia, opens the batting for the German women's cricket team, the "Golden Eagles".
A right-hand batter, Janet has batted in a number of positions in Germany's top order but is never more dangerous that when she is partnered at the top with Tina Gough. With this right/left combination of attacking openers are together it can be carnage for the bowlers.
Janet is the first player to have scored a century for the Golden Eagles in T20 Internationals when she scored 105 not out against Austria at Seebarn Cricket Ground, on 13th August 2020. Coincidentally Tina Gough became the second to achieve this a day later at the same venue.
A handy off-break bowler, Janet has best bowling figures of 2-5.
(Photo: Deutscher Cricket Bund)