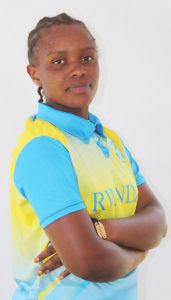 Born on the 1st January 2003, Henriette Ishimwe is an allrounder for the Rwanda T20 Intentional team and of the key players.
A right-hand batter and right-arm medium pace bowler, Henriette made her T20 International debut against Nigeria at Abuja in January 2019, just after her fifteenth birthday. Despite scoring a duck, she was in the action with the ball, taking 1-5 from two overs.
Since that modest start the allrounder has become an integral part of the team and as she has grown, so has team Rwanda. Henriette was part of the FairBreak tournament in 2022, representing the Barmy Army team, and the knowledge and experience gained there is sure to help that growth even further.
(Photo: Rwanda Cricket)