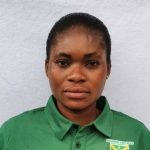 Born 11th November 1992 in Akwa Ibom, T20 International player for Nigeria and current captain, Blessing Etim.
Blessing is the team's leading allrounder, batting right-handed and bowling right-arm medium pace. She is the highest run scorer for Nigeria and the only player to have passed 300 runs in T20 Internationals for her team.
Her highest score of 50 not out was against Rwanda, 4 Sep 2019, at the Gahanga International Cricket Stadium, Kigali and remains the only time a Nigerian batter has hot a half century in T20Is.
With the ball, Blessing has some rare feats. Her 21 wickets (to end of 2021) is the highest for Nigeria. Her best bowling of 4-0 came from four overs. To bowl four maiden overs in T20 Internationals is a world record Blessing shares with Perice  Kamunya ot Tanzania. Suffice to say her 4-0 is also the best for Nigeria.
After Samantha Agazuma, Blessing is the second player to have captained Nigeria in T20 Internationals and holds that position as of 2021/22.