First Test on English Soil
On June 12th, 1937, the first day of the first women's Test ever played in England.
 In front of a curious English crowd of 5000* spectators Australia's Margaret Peden strode to the centre wicket with England's Molly Hide and promptly won the toss.
In typical Peden fashion, she chose to bat and walked off the field to pad up, opening the batting with Peggy Antonio. In dull light the pair walked purposefully to the wicket, Peden in her trademark wide brimmed hat tilted slightly backwards, and Antonio sporting both hidden and visible superstitious trinkets. She was by far the most superstitious of the Aussies, once having to leave the field to retrieve her black cat broach, a lucky charm she could not do without.
Opening the bowling for England, Meg Belton and perennial thorn in the Australian side from the tour in 1934/35, Myrtle Maclagan. Both bowled a maiden over.
Peggy Antonio would never die wondering. Where her spin bowling quite often offered up loose balls, so too her exuberance when batting often offered up loose shots. She was an aggressive batter and liked to go after the bowling, particularly outside off stump and had already enjoyed plundering the English bowling in the tour games, however she was out bowled for a duck to Meg Belton with the last ball of the third over. Australia were one wicket down without score.
That was the last of the joy for England as Peden hung around, determined to put Australia on the right track, while Maclagan for once was ineffective. At the other end, Hazel Pritchard carried her tour game form into the Test and delighted the crowd with her forceful driving. Finally this talented young batter was finding her feet at Test level. Peden went for 34, while Hazel scored a fine 87, a classy collection of drives and glances. Kathleen Smith, batting at number six, top scored with 88, serving up some vicious pulls to the leg side. Good contributions along the way from the tail and the Aussies managed to score their highest total in Test cricket, an even 300. Hide, Belton and Eileen Whelan picked up three wickets each, while Maclagan was kept quiet, taking just the one scalp.
In fading light, England's openers Mollie Child and Muriel Lowe faced up against Molly Flaherty and Smith, with Peden going for the right/left arm fast combination.
Child struggled against the pace of Flaherty and repeatedly played and missed. When the score was 12, she nudged a ball to mid-on and took off for a run. Quick as a flash, Flaherty raced at the ball and threw down the stumps from side on, running Child out. At 1/14, England negotiated the remaining balls and finished the day only one down.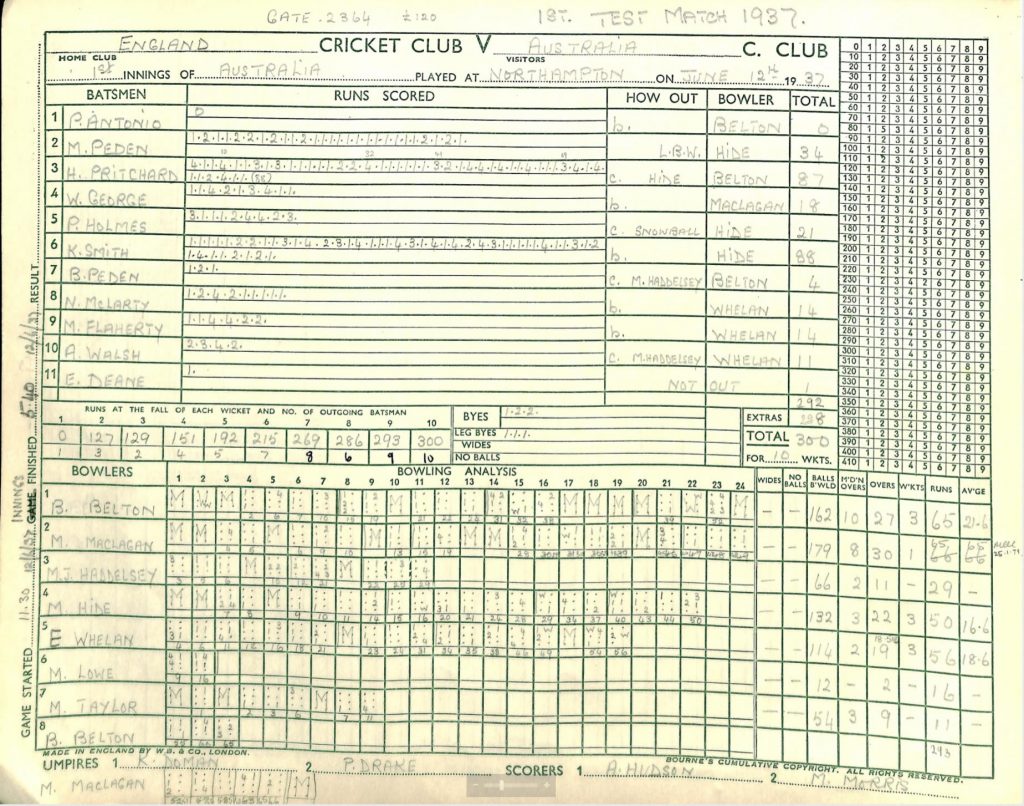 * the widely reported figure at the time. The total over the three days was in fact 4571 and for day one, 2364
Source: Captain's File: From Peden to Haynes, Australia's Women Test Captains
Score sheet: https://womenscrickethistory.org/
Main photo: Getty Images