2021: A Few of My Favourite Things
Through the dark clouds of the global pandemic where fixtures were cancelled, postponed or stopped halfway through, there might be good reason to feel gloomy. However there were some wonderful moments in women's cricket in 2021. Here's a list of favourite moments (in no particular order).
Australia's ODI Winning Streak
Victory to Australia over New Zealand on 4th April 2021 gave them 22 consecutive ODI wins, giving them the outright record. Previously they shared the record with Ricky Ponting's Australian men's team. They then defeated New Zealand two more times to take the streak to 24.
When India toured Australia in September 2021 the home team extended the streak to 25, then in a last ball thriller at Mackay took it to 26. And that's where it stayed, for two days later India brought the run to a halt.
The importance of the feat should not be understated. The women won these matches over a period of two and a half years while Ponting's team did it in four and a half months. To maintain that intensity over such a long period underlines the strength and character of Meg Lanning and her team.
What also makes it important is that it's yet another record owned outright by the women's game. Of course it's there to be broken and one can't wait to see that happen. For the record, next best, Australia (17), Australia, India (16), England (13).
Two other teams on hot streaks deserve mention, for those too ended this year. Zimbabwe recorded 15 and Germany 14, consecutive T20 International wins. Ahead of them in the pack, Australia with 16 and Thailand at the top of the tree with 17.
Zimbabwe's Victory in Their ODI Debut
Zimbabwe joined a select group of teams when they became only the seventh team to win their debut ODI match when they defeated Ireland by 4 wickets at Harare on 5th October 2021. They were guided to victory on the back of captain Mary-Anne Musonda's 103 not out. Certainly a captain's knock.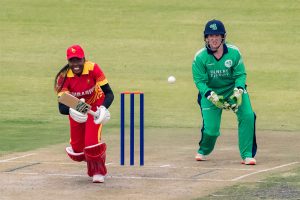 The list:
Thailand's Momentary Victory in Their ODI Debut
Thailand had a busy 2021. They had their eyes firmly gazed at a potential World Cup performance in 2023 and had a programme of 50 over matches in Africa to prepare for the World Cup Qualifiers. Their opening encounter was against Zimbabwe and they won the match, causing them to be the eighth team to have won their debut match in ODIs.
However. After initially being official ODI games during that tournament, somewhere along the line the ICC changed their mind. The Thailand victory was now merely another List A match. Adding insult to injury, when the tournament was cancelled the ICC gave those teams attempting to find a place in the World Cup a kick in the guts with a bizarre ruling based on rankings.
That was strange behaviour from an organisation that hangs its hat on its commitment to expanding the game. Thailand is the poster child of their policy yet they have been treated poorly by the ICC, to put it mildly. 
So what is good about any of this? Thailand's form in the 50 over format was excellent this year. They have proven that they belong in this format. At the same time they have improved their T20 ranking – currently 10th – to show that their performance to make the World T20 in March 2020 was no fluke. This team will continue to rise. That's the good news.
India's Return to the Test Arena
A bemused cricket world didn't initially take BCCI executive Jay Shah's tweet seriously. He insisted that India would play their first Test match in seven years when they toured England in June/July. He doubled down on that by insisting India would play a Test match against Australia when they toured in September. 
Some giggled. Not without good reason. The BCCI has struggled to follow through with some of their announcements regarding women's cricket at times. Yet, the gigglers were left with egg on their face, including yours truly. The return to Test cricket after a hiatus of seven years was not just a tweet, but a reality.
For a team that had not played long form cricket in so long, India stumbled but fought hard against England to achieve a respectable draw when a loss seemed on the cards and carried that form to Australia.
India's return to Test cricket is the biggest shot in the arm for the format this century. Hats off to the BCCI for initiating it and likewise to the ECB and CA for accommodating. Test cricket is back!
Acknowledgement of Mental Health Needs
A few notable players sat out at various times in 2021. The fact that they felt comfortable to do so, the fact that they were given strong support across the board means it's ok to say, "I'm not ok". 
Mums
New Zealand's Amy Satterthwaite returned to elite cricket in 2021 following the birth of her baby Grace. Not too many Mums return to international sport. It was special to watch the Kiwi star return to the fray while there were plenty of willing aunts back at the hotel to lend a hand.
Pakistan's Bismah Maroof is back in training with the squad in order to return to the team in time for the World Cup in March after having given birth in 2021. She'll have plenty of support from team and fans alike. She might well check in with Amy.
It is certainly a great leap forward with cricket boards such as PCB and NZC providing maternity leave and support. It's a far cry from what it used to be like. Spare a thought for Enid Bakewell who played while pregnant and then toured Australia in 1968/69, leaving her toddler at home. Times have changed, thankfully. 
PCB
Twenty years ago, the PCB actively campaigned against the women playing in Pakistan. Would not recoginse them, would not support financially and ensured that they had no cricket grounds on which to play. Some players were issued with death threats at the time. (There is no suggestion here that these threats came from the PCB.)
Roll forward to the 2020s and the PCB is such an active supporter of their women's team it's hard to equate with the snub at the turn of the century.
You can see this easily in player contracts, maternity leave and the like but these things don't always tell the full story. Scratch the surface and it is plainly evident that the PCB is a genuine supporter of the women's game. The scheduling of their domestic tournaments, the training camps for touring teams, the energetic pursuit of overseas opponents – they are the most traveled team in 2021 – in order to prepare the team for the World Cup. 
Further still, the tv coverage, the presence on the PCB website. This is a board that truly supports the women's game, actively.
Kwibuka Tournament
This was one of my favourite tournaments in 2021 and I cannot wait for the 2022 edition. An initiative of Rwanda Cricket it is a tournament between African nations and has been in existence for seven years. Kwibuka means to remember and it commemorates the genocide of the Tutsi people in Rwanda in 1994.
The tournament takes place in Kigali and this year due to Covid only five teams took part, but what a feast of cricket and colourful uniforms between teams who gave their all. 
Kenya's spin sensation Sarah Bhakita took 6-16 in the final against Namibia, bowling her team to victory. Definitely the two best teams and the best team on the day won the tournament. 
Rwanda were excellent hosts and one looks keenly forward to the 2022 edition when hopefully Covid allows a few more of the African teams to enjoy this carnival.
Fielding in the WBBL, Hundred
The standard of fielding the Hundred was very special and it followed on, for me at least, from WBBL6. When WBBL7 arrived the fielding was turned up to eleven. The quality of the fielding in these domestic competitions is breathtaking.
Yes there's those special hippety hop over the boundary rope and back in again, but for me, the diving forwards catches, those specialists at point, those rocket arms that bust the stumps from side on.
I am often simply watching these games for the next piece of fielding brilliance. I never have to wait long.
What's in Store for 2022?
Hopefully a longer list!
Main photo: courtesy PCB