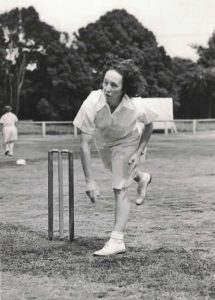 Amy Hudson played nine Test matches for Australia either side of WWII. She played in the first series in 1934/5 and continued playing up to 1951.
Born on 5th February 1916 in Penrith New South Wales, former Test allrounder Amy Hudson played the first of her Test matches in the third Test against England at the SCG in 1935 and finished up at the Oval in the third Test in 1951.
Primarily an opening batter, Amy bowled both medium pace and leg breaks, but it was the latter that caused the most damage. She took 16 wickets at 16.25 with a best of 3-9 against England at the MCG in 1948/49.
With the bat, 451 runs at 34.69 with a top score of 81 not out at the Adelaide Oval, also against England in 1948/49. A career that ran from the very first Test series, two trips to England (1937, 1951) across two very distinct eras of women's cricket. Amy passed away in 2003 in NSW.