Top 10 T20I Batters of 2021
With the dawn of 2022, it is obligatory to take a look back and pay tribute to the outstanding cricketers who appeased our eyes with their marvelous batting spectacles in T20I. Here are the top ten run scorers who continued to turn heads during 2021 with their indefatigable form.
1. Andrea Mae Zepeda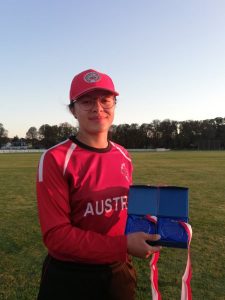 It is not an exaggeration to call Andrea-Mae Zepeda as batter of the year. She absolutely ruled 2021 with marvelous performances in the T20 format.
Andrea Mae Zepeda is an Austrian all-rounder, who lead the team in its first ever T20I. With this, Andrea Mae Zepeda became Austria's first T20 captain. Since her debut in 2019, she has featured in 19 T20I matches playing the primary role for her team.
In 2021, Andrea Mae Zepeda didn't captain the Austrian side but her batting won them matches as well as the recognition in the world of cricket. She ended up as the highest scorer of the year with 361 runs in only 8 matches. Her average in 2021 is above 51. A batter's dream come true.
Andrea Mae Zepeda remained top scorer in three consecutive matches, winning all three player of the match awards against Belgium. However, the finest of her work was her 101 off just 63 balls, making her the first Austrian woman to hit a century in T20I.
2. Gaby Lewis
20-year-old Gaby Lewis ended up as the second highest run-scorer in T20I this year. This made her Ireland's top batter. Gaby Lewis made her debut for Ireland in 2014 at the age of 13. She is the youngest Irish cricketer to play international cricket. Young batter has featured in 48 T20I matches for Ireland.
In 2021, Gaby Lewis featured in all 10 T20I matches for Ireland. In 10 matches, she mounted 325 runs at an impressive average of 40. Lewis' elite innings of the year was her unbeaten 105 against Germany, that too in the very first match of European World Cup Qualifiers. With this, Gaby Lewis became the first Irish woman to hit a T20I ton.
Owing to her fine form in 2021, Gaby Lewis got nominated for ICC Women's Cricketer Of The Year as well as ICC Women's T20I Cricketer Of The Year.
3. Tammy Beaumont
The star English batter was the third highest scorer in the World in the T20I arena and top scorer for England. Tammy Beaumont opens the batting and England have always relied upon her thundering bat. She sets the stage on fire when it's her day and luckily, every day of 2021 seemed like her day.
Tammy Beaumont smashed three T20I fifties, the most by any player in 2021. She scored 303 runs in 9 matches at an average of more than 33. A T20 dream for any player. A little miscue for her when she missed a century by three runs only against New Zealand. She was although declared player of the match for dazzling 97 off 65 balls. As if it is not obvious, Tammy Beaumont has been nominated for the ICC Women's Cricketer Of The Year 2021.
Embed from Getty Images
4. Fatuma Kibasu
32-year-old Fatuma Kibasu is Tanzania's veteran cricketer. She also serves the team with her right-arm off-break bowling but it was her batting that turned heads this year. Fatuma Kibasu has showcased her skills in 16 T20I matches representing Tanzania so far. She played 7 matches for the shorter format of game in 2021 which added 280 runs to total.
The quality of her game can be concluded by her batting average in 2021. She has an awe-inspiring average of 56. As if that's not enough description, another incredible feat is her century against Eswitini. She blazed away an unbeaten 127, which is the third highest individual score by a woman in T20I. Fatuma Kibasu surely had a terrific year with the bat.
5. Smriti Mandhana
 Smriti Mandhana has always proven to be a top notch player. The 25-year-old left handed batter is the cream of India's batting line up. Her absolute class in 2021 sees her nominated for both ICC T20I Women's Player Of The Year and ICC Women's Cricketer Of The Year.
Smriti Mandhana scored 255 runs in 2021, including 2 fifties in 9 matches at an outstanding strike rate of 131. Her top score was 70 off 51 balls but in a lost battle against England. Smriti Mandhana's blazing bat lit a candle of hope for India in their dark times of T20 format, this year. She took that form to Australia where she shone in the WBBL for Sydney Thunder.
Embed from Getty Images
6. Danni Wyatt
Danni Wyatt has been representing the English side for over a decade now. She is a prime player of England's T20 team. Her power hitting provides England a solid middle order. It is her fiery batting that makes her selection a no-brainer. Danni Wyatt has the honor of featuring in more than 100 T20Is for England. She holds the joint record for most centuries in T20I along with Deandra Dottin.
In 2021, Danni Wyatt rocked the show with her fearless batting. She smacked 252 runs in 9 matches at a fine strike rate of 133. Her best innings of the year was 89 not out off 56 balls against India. The 30-year-old all-rounder surely had a stellar year with the bat.
7. Sune Wittmann
Sune Wittmann was Namibia's best batter in 2021. She made her debut for Namibia in 2019. Till now, she has featured in 23 T20Is. Sune Wittmann had the time of her life in 2021 with the bat. She has 355 runs in total, out of which 245 runs were scored in 2021. She played 12 matches and batted in 11 of them.
In 11 innings, she batted tremendously, hitting 2 fifties. But it was against Botswana in Kwibuka Women's T20 Tournament 2021, when Sune Wittmann displayed the best of her game. She smashed 93 not out off 60 balls. Her outstanding form saw her named in team of the tournament.
8. Lizelle Lee
Lizelle Lee is a veteran cricketer for South Africa. Leading from the front, she comes on to bat at number one and provides a solid start to the batting. Lizelle Lee was South Africa's top batter this year, across all formats. No surprise, she made it to the top T20I batters of the year.
Lizelle Lee played only 8 matches and scored 232 runs. She smashed two fifties, 70 off 45 balls against India and 75 off 52 balls against West Indies. Lizelle Lee has been nominated for the ICC Women's Cricketer Of The Year, acknowledging her overall outstanding performance across all formats in 2021.
9. Modester Mupachikwa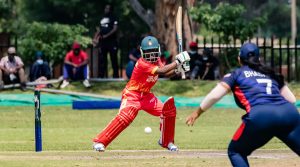 2021 was a big year for Modester Mupachikwa. The 24-year-old made her ODI debut as Zimbabwe played their first match of the format on October 5, 2021. A look at her T20I performances show that ODI debut wasn't the only special moment.
Modester Mupachikwa starred in 8 T20I matches, hitting 227 runs. She averaged above 37 in 2021. Modester Mupachikwa's notable batting throughout the year generally gets Zimbabwe off to a good start.
10. Sita Magar
Sita Magar is an all-rounder from Nepal. She bats with the right hand while bowls with the left arm. Although she is equally good in both aspects, it is her batting that bloomed in 2021. This year, Sarita Magar played 7 matches of the shorter format, striking 221 runs. She averaged above 44 with the bat. Her top quality innings of 2021 has to be her 82 not out. Sarita Magar is a star in the T20 format and 2021 has proved exactly that.
The top ten run scorers for 2021. Who will make the list in 2022? Join us for the journey!