Nigeria Invitational 2022
The Nigeria Invitational 2022 is a five team T20 International tournament, (down from originally six), being held in Lagos, Nigeria in March/April 2022. Apart from host nation there are teams from Rwanda, Sierra Leone, Ghana, and The Gambia. The last two on that list will be making their T20 International debuts. Cameroon was originally part of the tournament but withdrew at the last minute.
All matches will be played at the TBS Cricket Oval. Nigeria Cricket Federation (NCF) recently refurbished the centre wicket and this tournament will be the first international series to be held on the newly laid turf wicket.
NCF President Uyl Akpata: "Our women national team has been one of the most improved of all our national teams in the last five years and our gender inclusion development agenda has thrown up massive talents with an ever improving side."
"This event is, apart from celebrating the milestones the Federation has achieved in raising tons of women cricketers through its grassroots project, set to become part of the process."
Teams
Nigeria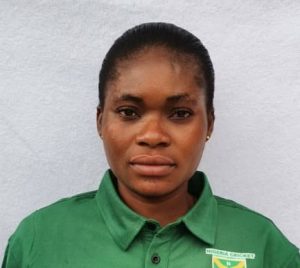 The team under captain Blessing Etim had wins over both Cameroon and Sierra Leone at the World T20 Qualifiers and have a 5-7 win loss record against Rwanda who they last played in the 3rd place play-off in Kwibuka 2021.
Key players to watch for Nigeria are Blessing Etim, allrounder Salome Sunday, and the Abdulquadri twins, Taiwo and Kehinde. Salome Sunday is a promising cricketer who has been playing for the nation since 2019 when just a teenager and is the second highest run scorer for Nigeria behind Etim.
Etim's 50 not out is the highest score for a Nigerian player and she is also the only player to pass 300 runs in T20 Internationals. She is also the team's leading wicket taker with 21 wickets at 21.33 with a best of 4-0, a record she shares with another player in the tournament.
Another to watch is young wicket keeper, Lucky Piety who made her debut last year at just 15 years of age.
The team is sure to figure in the finals and will enjoy good, vocal, local support.
Ghana
This tournament will mark the debut of the Ghana women's cricket team on the international stage. Granted IT20 status in 2018, the team will finally appear in a T20 International nearly two years later.
The Gambia
As with Ghana, The Gambia women's cricket team will be making their international debut in this tournament.
Rwanda
Along with Nigeria, the strongest team in the tournament and all eyes will be on this team as they make their way to the finals. It is expected that they will finish on top of group B having had recent wins over Sierra Leone and Cameroon at the Africa World T20 Qualifiers.
Key players to watch are captain Diane Bimenyimana who was the first Rwanda player to pass 300 runs in T20 Internationals and has a high score of 114 not out. The highest runs scorer for the team, Gisele Ishimwe, also has a century to her name, also 114 not out against Eswatini in September 2021.
With the ball, leg spinner Margueritte Vumiliya has the outrageous bowling figures of 4-0, which is a record she shares with Nigeria skipper Etim, who also a 4-0. With 21 wickets Margueritte is third highest for Rwanda. Highest is medium pace bowler Immaculee Muhawenimana with 25 and she will likely share the new ball with Henriette Ishimwe who has 24 career wickets.
Rwanda is a team with skill and experience and is one to look for to for the finals.
Sierra Leone
Linda Bull and her team have played in 13 T20 Internationals and is the third most experienced team in this tournament and has had victories over Botswana, Lesotho, Malawi, Mozambique, and importantly, Cameroon against who they play in Pool B.
Ann-Marie Kamara will lead the way with the bat as the team's leading run scorer. She is vital to the team's success as demonstrated by her unbeaten 84 against Lesotho in 2018. Another key player with the bat will be Aminata Kamara who has a top score of 47 not out.
The tournament gets underway Monday 28th March with the semi-finals on Saturday 2nd and the final on Sunday 3rd.