2021 saw a significant number of notable batting performances.  As 2022 begins, and a World Cup around the corner, here is a summary of 2021 for batters in ODI format.
1. Lizelle Lee
 Veteran South African opener Lizelle Lee had an outstanding year with the bat, particularly in the ODI format. She featured in eleven matches of the format and scored consistently. She smashed 632 runs, laced with 5 fifties and an unbeaten 132. This made her the highest scorer of the year. She ended the year with a formidable average of above 90. All these out-of-the-world performances saw her nominated for both ICC Women's Cricketer Of The Year and ICC Women's ODI Cricketer Of The Year. 2021 was surely Lizelle Lee's year.
2. Tammy Beaumont
The 30-year-old opener provided a solid start to England's batting in almost every ODI played in 2021, none more evident than her series against New Zealand in March where she averaged an outrageous 231.00. This, and further runs against New Zealand at home resulted in her being this year's top run getter for England. Tammy Beaumont scored 503 runs at an average of 62.87. Her best was 102 against New Zealand at Canterbury, for which she earned player of the match award. Acknowledging her prodigious performances, she has been nominated for all three categories of ICC Awards for women's cricket.
3. Mithali Raj
 Mithali Raj has always been the cornerstone of Indian batting line up and this year she was easily India's most reliable batter. She batted in ten out of eleven ODI matches she played and mounted a considerable amount of runs. At an average of more than 62, she score 503 runs, equal second with Tammy Beaumont. This included six fifties and a top score of 79 not out against South Africa. However, her best innings of the year is match winning 75 not out against England at Worcester. Mithali Raj showed how experience and persistence can work wonders for the team in crucial times.
Embed from Getty Images
 4. Deandra Dottin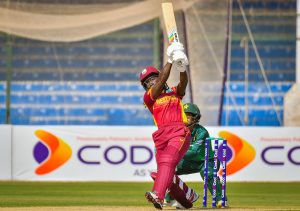 The West Indies' all-rounder usually serves with her quick runs down the order but in 2021, she was the leading run scorer for her team at the top of the order. She played fourteen ODI matches, batting in thirteen.
Hitting a century and two fifties, she scored 460 runs at an average of 38. The cream of her craft has to be her 132 against Pakistan as West Indies were on the winning side.
The impressive thing about Deandra's batting this year has been the way she has built each of her innings and her form is excellent heading into the World Cup.
5. Laura Wolvaardt
 After Lizelle Lee, Laura Wolvaardt was the most impressive batter from South Africa. At an average of 40, she scored 440 runs in twelve ODIs, decorated with five fifties. Laura Wolvaardt's top innings of the year was her triumphant 83 against India, following Lizelle Lee's century.
6. Heather Knight
 The England captain was seen leading from the front, scoring runs and winning player of the match titles. In eleven matches, Heather Knight scored 423 runs at a fine average of 42. The most prestigious of her all innings was a century scored against New Zealand, for which of course she was declared the player of the match.
7. Aliya Riaz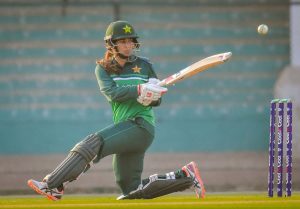 Aliya Riaz was a breath of fresh air for reeling batting line up of Pakistan and in many ways this tear was a coming of age for a player who had previously lacked consistency.
With the big guns failing to fire for Pakistan, it was all-rounder Aliya Riaz who continued to battle for runs in the eleven ODI matches the team played.
She scored 382 runs at an average of nearly 48. Her top score was 82 versus South Africa at Karachi National Stadium, although in a losing battle.
8. Hayley Matthews
West Indies' Hayley Matthews was another big hit with both bat and ball. She scored 380 runs in fourteen matches, which makes her West Indies' highest scorer after Deandra Dottin. Her top innings of the year came against Pakistan, an even hundred and that too unbeaten. It wasn't just the runs she scored. There is a new maturity to Matthews' batting that grew throughout 2021 and this augers well for the West Indies' World Cup campaign in March.
9. Amy Satterthwaite
Fresh from maternity leave, Amy Satterthwaite guided White Ferns' ODI campaign throughout the year. It was her contribution with the bat that helped New Zealand in struggling times. She scored 363 runs in eleven matches at an average of 40. New Zealand won against England when Amy Satterthwaite displayed class with 119 runs, earning her the best player of match title. She also smashed two fifties, making her New Zealand's top scorer of the year.
Embed from Getty Images
10. Nida Dar
Nida Dar is Pakistan's mainstay player. Either it is her bowling or crucial runs hit by her bat, Nida Dar is always playing the anchor role for Pakistan. In 2021, when the top order failed, Nida came to the rescue time and again, steadying the ship. She collected 363 runs in ten ODI matches at an average of 45. For her prime part in all aspects of the game, she was awarded Pakistan's Women's Cricketer Of The Year.
2021 was a crazy year for the batters, scoring runs and making records. These performances matter a great deal as ODI World Cup 2022 is just around the corner.
Main photo: courtesy PCB