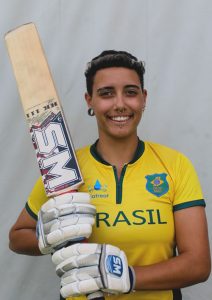 Born on 8th June 2004 in Pocos de Caldas, Minas Gerais, current T20 International player for Brazil, Evelyn de Souza.
A right-hand batter and wicket keeper, Evelyn has played in six matches so far for Brazil, all of them at the ICC Americas World T20 Qualifiers in November 2021.
So impressive with the gloves that she was named wicket keeper of the tournament. It was a wonderful start to her career. Yet to make a mark with the bat, but this will surely follow.
In June of 2022 Evelyn and the rest of the Brazil team will take part in the Kwibuka tournament in Kigali, Rwanda.
(Photo: Cricket Brasil)