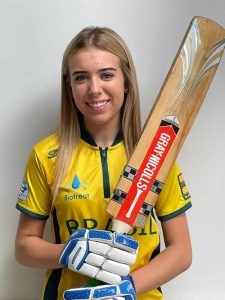 Born on 28th August 2005 is current T20 International player for Brazil, Daniella Staddon.
Daniella made her debut not long after her 16th birthday at the ICC Americas World T20 Qualifiers in Mexico in November 2021.
A right-hand batter and right-arm medium-fast bowler, Daniella is in the very early stages of her cricket career with just the six games under her belt.
Daniella and the team will travel to Kigali in Rwanda in June of 2022 as one of eight teams participating in the Kwibuka tournament.
(Photo: Cricket Brasil)